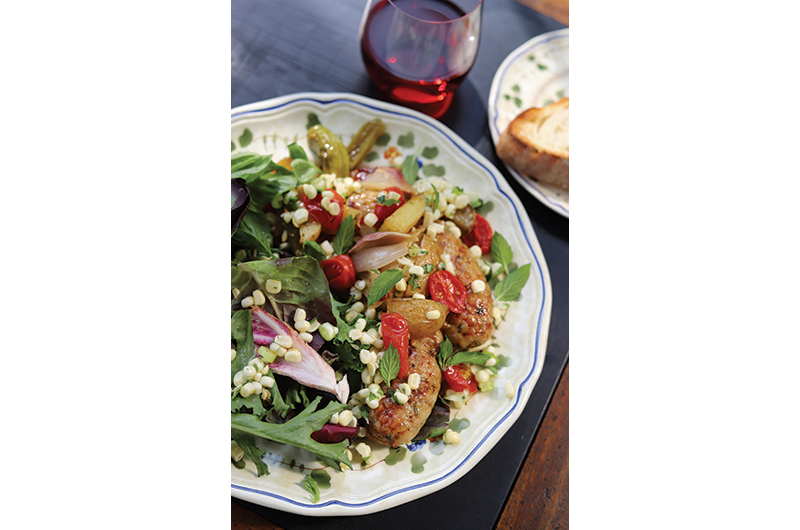 The Locavore Carnivore Challenge | Martha's Vineyard review
This time of year, there is no better place to eat than Martha's Vineyard, in your own home, cooking what you have picked up from the island's farm stalls. I find it a personal challenge to try to cook as many "all local" meals as possible while all the good stuff is there – and coming out of my own backyard. Cherry tomatoes shoot at my tomato plants like gumballs from a gumball machine. Suddenly the peppers turn from a bright, grassy green to a pinkish hue by sunset. And with our long hot falls, Morning Glory Farm in Edgartown always harvests corn by truck, until the first frost in late October (sometimes early November!). Our choice of green salads from the farms is getting more and more incredible – this fall, the Beetlebung farm in Chilmark is trying twelve different varieties of radicchio.
Of course, the vegetarian part of an all-local meal is easy, you say. But what about protein (the non-vegetarian type)? While you can argue for fish every night, it might not be practical. Your next challenge is to familiarize yourself with the local meat options. This requires a bit of planning and freezer storage, as most of the local meat is frozen after butchering, much of it in medium or large cuts.
Since I'm always on the lookout for time, I tend not to be the best at planning so far in advance. And sometimes my wallet can't afford a huge expense either. The solution with us? Local sausage.
All of the farms that raise cattle – Allen Farm, The Gray Barn and Farm and Mermaid Farm, all in Chilmark, as well as Morning Glory Farm – sell their own sausages, while other local chefs and farmers, including Jefferson Munroe of the GOOD Farm and The Larder in Vineyard Haven, make sausages from local meat. Ghost Island Farm sells sausages made from animals from Nip 'n' Tuck Farm. (The Ghost Island Farm Store is located on Nip 'n' Tuck Farm on State Road in West Tisbury.) Availability, like other local meats, varies, so it's a good idea to contact base regularly. with a farm stand (or stalls) nearby you.
This is why I am delighted that the old Whippoorwill Farm stand has been revived by Rose Willette, owner and operator of North Tisbury Farm & Market in West Tisbury, who now leases the Whippoorwill land to Andrew Woodruff. The small farm stand on Old County Road in West Tisbury serves as an outpost for the larger State Road market. Willette revitalizes the fields of Whippoorwill as well as the hoop houses, as you will see when you stop by the stand. So over time you will find tomato and squash treats, flowers and herbs, at the outdoor honor stand which only traveled a few feet to get there.
Better yet, the stand has a freezer stuffed with local sausages (and sometimes other cold cuts like country pâté). I particularly like the chicken and garlic sausages, but there are different types including sweet Italians, lamb merguez, and breakfast sausages available at different times. Turns out the sausages are made by Tyler Potter from The Swimming Pig, who has appeared on my Instagram feed all summer. (Find him @theswimmingpigmv.) To grow his fledgling deli business, Potter makes sausages for business customers including Seaweed Restaurant, El Gato Grande Food Truck, and Orange Peel Bakery. But much of its charcuterie is currently sold through North Tisbury Farm & Market (and the Whippoorwill satellite stand). From Allen Farm lamb shoulder and Gray Barn bacon to Jo Douglas's Fork pork to pigs raised on the Isle of Pork and fed on island food scraps, local meat finds its way. place in Potter's sausages. It is a very happy and tasty circle.
Whippoorwill's farm stand is a convenient stop for me, but when I'm at other farm stands I always keep an eye out for sausages. Sausages defrost quickly – overnight in the refrigerator is best, but in a pinch, you can put the Cryovaced package in a bowl of cold (not hot) water in the sink for no more than two hours (and less if the temperature of your room is very hot). Or take them home and put them back in the freezer – they don't take up much space.
When it comes to cooking local sausages, I have a few tips for you. First of all, try to manage your expectations when it comes to finding a particular type of sausage. While most farms make Italian-style pork sausage, the individual products vary a lot, and you may find that Italian sausages are sold out and you have to choose from another pork sausage (for example, a Andouille, which won doesn't necessarily match the style of a store-bought andouille), a lamb-based sausage or even a beef product. Local sausages often don't have as much fat or load as commercial sausages, so they can be leaner and cook faster than what you're used to buying at the grocery store.
To that end, I try to stay flexible and use flavors and techniques that would work with any fresh sausage. Have you ever come across a sausage that dislikes tomatoes and garlic (or onions and peppers for that matter)?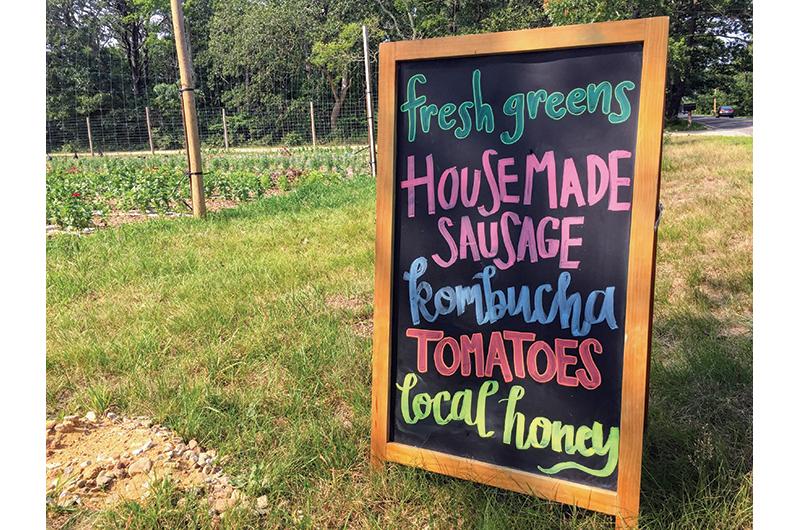 Often times, I roast whole sausages in a ceramic baking dish – most are cooked in about eighteen to twenty-five minutes in a 400- or 425-degree oven, although they are forgiving a bit of overcooking, depending on the. type. (You can also boil the sausages for ten minutes and finish them in the oven for ten minutes to brown them if you're concerned about excess fat or want to do some of the cooking ahead of time.)
When I cook the sausages in a roasting pan, I usually roast all the vegetables that come with them in a separate pan in case the sausages release an improper amount of fat. But I find that I can combine sausages and vegetables if I roast them on a baking sheet. With the popularity of take-out, it just seems right to give sausages this treat.
The recipe I'm giving you here uses all the vegetables from the farm or garden, making it really a vineyard-centric meal. After roasting, you can remove the sausages and roasted potatoes, tomatoes, shallots (or onions) and peppers (optional) from the baking sheet and leave any residual fat behind. A nice, bright, slightly sour topping – in this case fresh corn in a lemony vinaigrette – is essential to add a counterpoint to all of those tasty and filling ingredients. (If you want to do this on a day when you don't have fresh corn, try sprinkling the baking dish with finely diced pickles, or just drizzle it with a fruity vinegar or lemon juice.) serve each serving with a side of Island Green Salad.
In my house, this pan dinner, which calls for four sausages (a total of one pound), only serves two people (and a dog – not my idea, mind you). But if a sausage, or even a sausage and a half works for you, you can increase the amount of vegetables on the plate and add an additional sausage to serve three or even four people. If you want to increase the amounts more than that (or serve more people) I would use two plates. Remember, the more crowded the baking sheet or oven, the longer the vegetables will take to reduce and brown because of all the moisture they give off during cooking. Tin Dinners are fun and versatile, so you're likely to find your own touch – as well as your own favorite local sausage and most convenient farm stand. Good hunt!