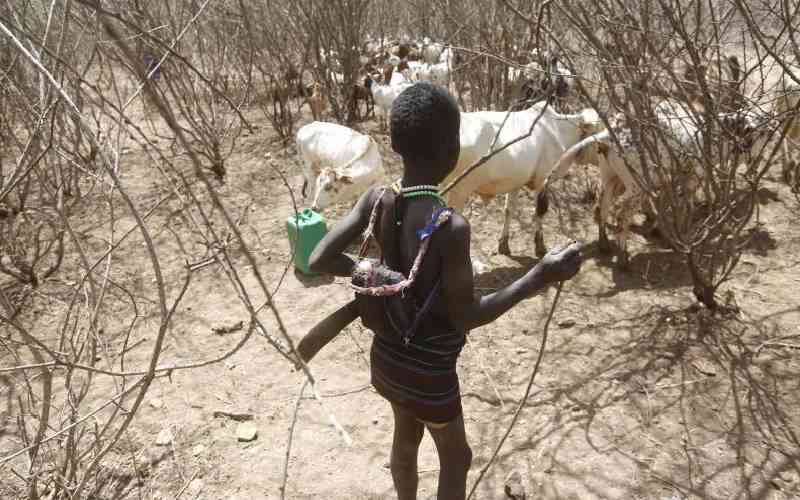 Social behavior change campaign helping to improve dryland livestock production
Social behavior change (SBC) tactics have been successful in reducing maternal and child deaths in Kenya. Historically, pregnant women relied on traditional birth attendants and ignored calls for antenatal clinic visits, resulting in high maternal and infant mortality attributed to preventable causes such as severe bleeding during childbirth. As a proven, data-driven approach, SBC has encouraged a change in knowledge, attitudes, norms, and beliefs in the health sector, which ultimately led to positive behavior change. There was an increase in the use of maternal and newborn care, immunization services, family planning and HIV testing.
As an approach that analyzes a problem to determine barriers and motivations for behavior change, the success of the SBC has attracted thematic areas outside of health to adopt it. Promoting sustainable livelihoods and food security is one area of ​​the humanitarian world that is warming to this approach. The livestock sector, for example, is one area where adoption of the SBC campaign will be essential.
The sector contributes 12% of Kenya's gross domestic product (GDP) and 42% of agricultural GDP. Seventy percent of the beef produced in the country comes from the ASAL region, mostly farmed by herders, hence the urgent call to equip herders with the knowledge and skills for better husbandry practices.
In northern Kenya, pastoralists need to adopt modern animal husbandry practices for higher yields to avoid animal losses seen during droughts and disease outbreaks. In this context, pastoralists in the Arid and Semi-Arid Lands (ASALs) have long been engaged in livestock keeping for cultural rather than commercial reasons.
Second, despite being the main source of beef and other livestock products, ASALs have lagged behind in terms of economic contribution due to the dominant influence of cultural and social values ​​on the need for sustainable economic gains. This partly explains why they continue to experience abject poverty and significant economic losses, especially during long periods of drought.
While donor-funded projects have mainly focused on imparting technical expertise and strengthening county government systems in ASAL regions, the efforts have not sufficiently changed the fortunes of the livestock sector. . The main reason is the inability to address socio-cultural issues that can improve the welfare of pastoralists.
Between January and July of this year, the Feed the Future Kenya Livestock Market System Activity (LMS), with support from the United States Agency for International Development, undertook an SBC communication campaign in the counties of Garissa, Isiolo, Marsabit, Wajir and Turkana. The campaign has championed the adoption of animal health services such as the use of vaccination and veterinary drugs, the use of high quality feed such as hay, animal feed and mineral salts and the marketing of livestock and livestock products through aggregation channels such as producer groups. Others included the handling, processing and preservation of livestock products and the consumption of foods of animal origin by livestock farmers in the five counties.
With only six months into the campaign, the winds of change are blowing on the ground. More than 100 county technical officers in the five counties have completed various SBC training techniques to reinforce key messages from media campaigns at the community and household level (including guidance on the effective use of groups listeners and other local platforms). County officials and local change agents will be instrumental in educating community reporters about the diseases that connect the county to ranchers. The campaign also served as a learning opportunity for the implementation of SBC health programs. Social norms affect all facets of society, and herding and pastoralism are central to community beliefs, practices and attitudes.
Tackling the core issues that are resistant to change is the start of lasting change among the beneficiaries of livestock and livelihoods projects such as the LMS. In addition, the campaign revealed structural and administrative barriers to enacting the desired behavior changes that had not been explored before. Barrier analysis research has revealed key insights rooted in bad policies that impede the adoption of these behaviors. Counties prioritized livestock CSC calling for strong advocacy and policy change to support sustainable behavior change among livestock keepers.
SBC communication activities are dedicated to exponentially produce lasting change that will lead to better husbandry practices away from the cultural beliefs, norms and traditions that influence the way pastoralists in ASAL regions view their livestock and herding.
Better livestock means healthier cattle and livestock products that will serve local markets and meet international market standards. This will lead to securing livelihoods through increased incomes of pastoralists, especially at the household level, increased foreign exchange, and most importantly, improved food security.
The campaign, carried out mainly through radio stations targeting pastoralist communities, has so far reached more than 70,000 pastoralists.