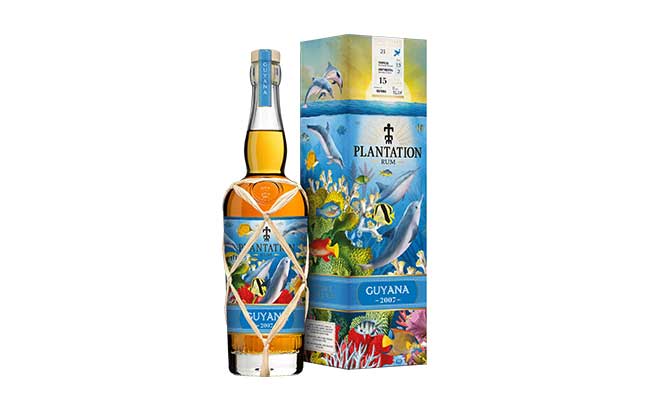 Plantation Rum debuts in Guyana 2007
Maison Ferrand has released a limited edition Plantation rum bottling called Guyana 2007.
The rum is the fourth bottling in the Under the Sea Vintage No 2 collection and includes a blend of rums produced in column and pot stills, as well as liquids aged in Guyana and France.
The launch follows previous versions: Panama, Jamaica and Fiji.
The double-aged 2007 Guyana celebrates marine animals native to traditional rum regions.
It was aged for 13 years in old Bourbon casks.
The expression is the result of week-long fermentations that were distilled in three historic stills: the Port Mourant Double Wooden Still, the French Savalle Four-Column Metal Still, and the Enmore Wooden Coffey Still.
Additional depth was added through the double aging process, which saw the liquid transferred to French oak barrels to finish in Javrezac, France for two years after its first 13-year aging stint.
Guyana 2007 was produced in collaboration with Alexandre Gabriel, owner and master blender of Plantation Rum.
Guyana 2007 delivers aromas of cocoa, almond and banana on the nose, and opens to orange, caramel and tobacco on the palate, with a long spicy finish.
The rum is bottled at 51% ABV and sells for £72.95 (US$80.83) per 700ml.
The brand recently unveiled its 2015 Ukraine Barbados charity bottling, with proceeds going to Budmo UA, a charity run by members of the hospitality industry in Ukraine that delivers meals to people in need across the country.