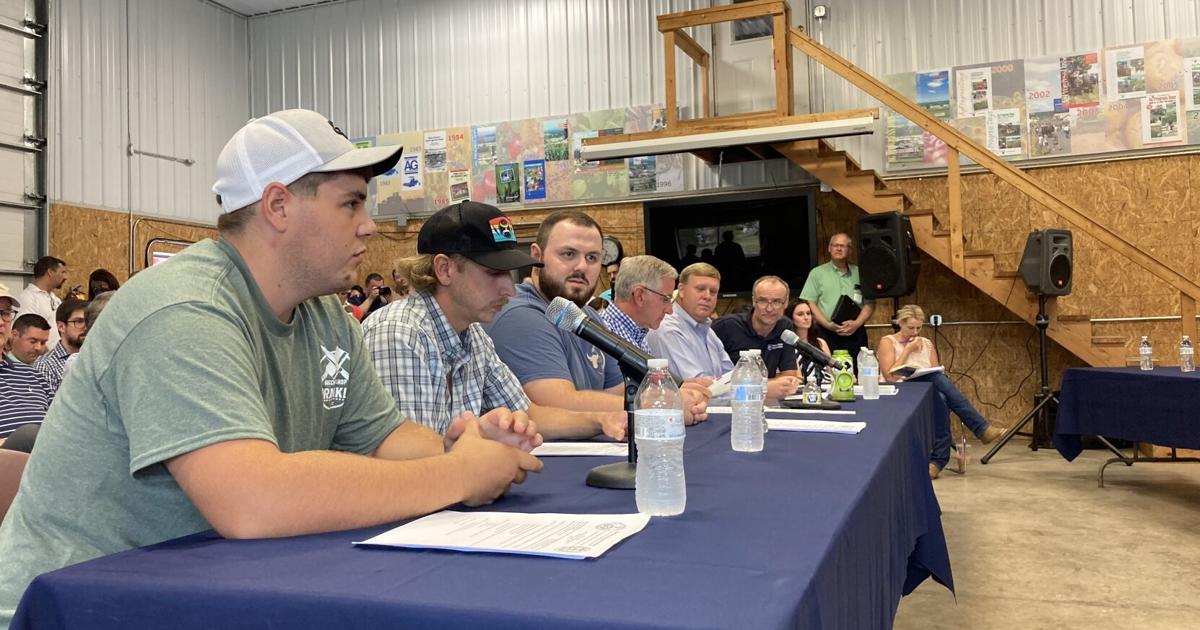 Penn State Butcher Apprenticeship showing results | Breaking News in Breeding, Breeding and Away
ROCK SPRINGS, Pa. — The Penn State butcher apprenticeship is starting to pay off for aspiring meat cutters and the agricultural industry in Pennsylvania.
Three of the program's first graduates spoke Wednesday at a joint meeting of the House and Senate Agriculture Committees during Agricultural Progress Days.
Parker Bell came into the program knowing the challenges of meat processing. His family has a cattle farm in Tyrone, so he was used to booking slaughter dates a year in advance – an unwieldy result of the high demand for the services of butchers who serve farmers in direct marketing.
In the training program, Bell said he learned more meat science topics than he ever thought could be useful to him. He also spent hours honing his practical skills.
"You can't learn to skin half an ox unless you skin half an ox," he said.
The Penn State butcher apprenticeship includes classroom training in meat science and food safety, as well as hands-on work in a meat processing company. The first cohort of six students began in January 2021, and a second began earlier this year.
The apprentices also learn about financial management and marketing – necessary elements of running a small business, and the courses, according to the apprentices, have been useful.
Meat demand is highest in the fall and lowest in late winter. So Bell said he needs to budget carefully to get through the lean months.
Former apprentice Nick Oman says daily marketing on Facebook helps grow his business.
"We get more engagement on our Facebook posts than word of mouth and anything else," he said.
Rep. Chris Rabb, D-Philadelphia, was impressed with that.
"Facebook has some redeeming value. I didn't think I would ever be able to say that," he joked.
On the recommendation of industry advisors, Penn State does not charge any tuition for butchery school. Students must give up full-time employment and move to State College during the program.
"It's a huge sacrifice on their part, but we hopefully removed a big barrier to entry," said Dan Brockett, deputy community vitality program manager at Penn State Extension.
Funders of the program include butcher shops, the State Center for Poultry and Livestock Excellence and the Pennsylvania Beef Council, said Jonathan Campbell, a Penn State meat specialist and one of the apprenticeship's lead instructors.
"However you've done this, it's fantastic," said Rep. Dan Moul, R-Adams, chairman of the House Agriculture and Rural Affairs Committee. "Not only is this a great tuition award, but it is also an encouragement" for apprentices.
Bell said the affordability of learning was a big selling point for him.
Since completing the apprenticeship, the three jury graduates have used their apprenticeship experience to strengthen family businesses.
Cash Sprankle and his parents have been running a deer butcher shop for years, but with his butchery background, two months ago they opened Sprankle's Butcher Shop in Tyrone.
Bell seeks to scale the beef business from start to finish which he runs with his father-in-law in Tyrone. Bell is seeing direct beef customers move away from large quantities of frozen beef and into retail cuts. He works to produce meat that can be sold at farmers' markets or on the farm's website.
To complement his family's restaurant and concession business, Oman opened a restaurant and store, The Full Bull Table and Market, in Rohrsburg, outside of Bloomsburg.
Oman sells local produce, but within a year it hopes to add a counter for fresh-cut meats, burgers and sausages.
Rep. Bud Cook, R-Washington, grew up on a beef farm and had a butcher as a neighbor. So he's been cutting meat since he was 12 years old. He asked the graduates how to promote careers in meat processing to students.
After all, butchering isn't for everyone. It's dirty and involves killing animals, which Bell says is a tough part of the job.
"A lot of times (when) they come to high school, they've already been told that ag isn't the way to go," he said.
Oman suggested talking to the 4-H and FFA groups first. His alma mater, Central Columbia High School, has a small butcher shop.
The meat processing industry could use more workers, and people are looking to fill those positions.
Penn State's butcher program produced six graduates from its pilot program, and the second cohort, which began in January, saw more than 100 applications for eight slots, Brockett said.
Given the high demand for the program, Campbell plans to launch a revamped version of the course in the summer of 2023 – when apprentices won't have to compete with undergraduate meat science courses for space at the Penn State Meats Lab.
The new intensive program could accept 20 to 30 students at a time. Even so, the program would take time to replace the many butchers now retiring. Butchering is a skill that takes years to perfect, Campbell said.
Since 2015, Pennsylvania has approved half a dozen agriculture-related apprenticeships – for farm equipment technicians, dairy grazing, diversified crop production, landscape management and grounds maintenance, in addition to the butcher's shop.
Sen. Doug Mastriano, the Republican gubernatorial candidate, sits on the Agriculture and Rural Affairs Committee, but did not attend the Farm Progress Days meeting.
He gave a radio interview in McConnellsburg that morning and had planned a rally in Beaver County later that day.