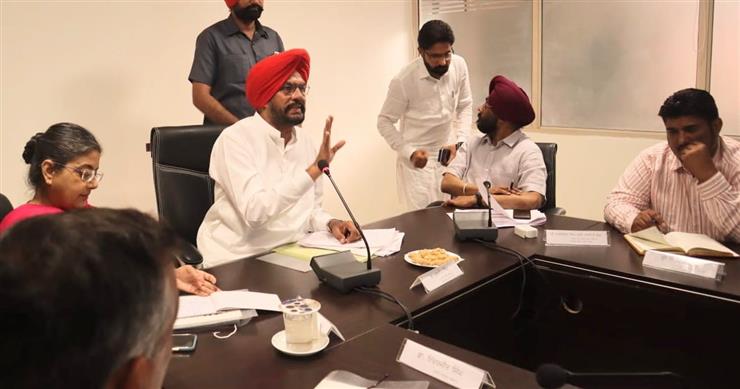 Livestock Minister Kuldeep Dhaliwal instructs to formulate policy to engage maximum youth in livestock
CHANDIGARH/SAS NAGAR: The Minister of Animal Husbandry, Dairy Development and Fisheries of Punjab, Mr. Kuldeep Singh Dhaliwal has instructed officers in the department to attract young people from the state to the sector allied breeding. He asked the officers to draw up a policy to engage young people in animal husbandry as soon as possible so that more and more young people can start their own business. Expressing his deep concern at the first meeting with officials from the Livestock Department headquarters here today, he said that due to the high cost of fodder, feed and medicine, livestock n is more profitable.
The Minister of Livestock indicated that concrete efforts should be made to provide breeders with quality food and medicine at a lower cost in order to make this activity profitable.
He said there is an urgent need to strengthen marketing infrastructure and provide marketing facilities so that farmers can easily sell their livestock and produce such as meat, eggs, etc.
He asked officials to share with him a roadmap in this regard so that it can be implemented as a priority. He said the horse business was booming in the state and many people had set up their own stud farms. He further said that the NRIs are also showing keen interest in the horse trade. The minister also instructed the department to formulate a special policy for the sale and purchase of horses domestically and internationally.
Expressing concern, Kuldeep Dhaliwal said that sometimes due to natural calamities or other reasons, herders have to bear huge losses due to which they suddenly quit herding. The minister asked the officials to carry an insurance policy so that the breeders can be easily compensated for their losses.
Among others, Special Chief Secretary for Livestock Ravneet Kaur, Secretary Malvinder Singh Jaggi, Joint Secretary Rajpal Singh, Vice Chancellor GADWASU Dr Inderjit Singh, Director of Livestock Dr HS Kahlon, Director of Dairy Development Karnail Singh, Director of Fisheries Rajinder Kumar Kataria and other senior officials. Department officials were also present.