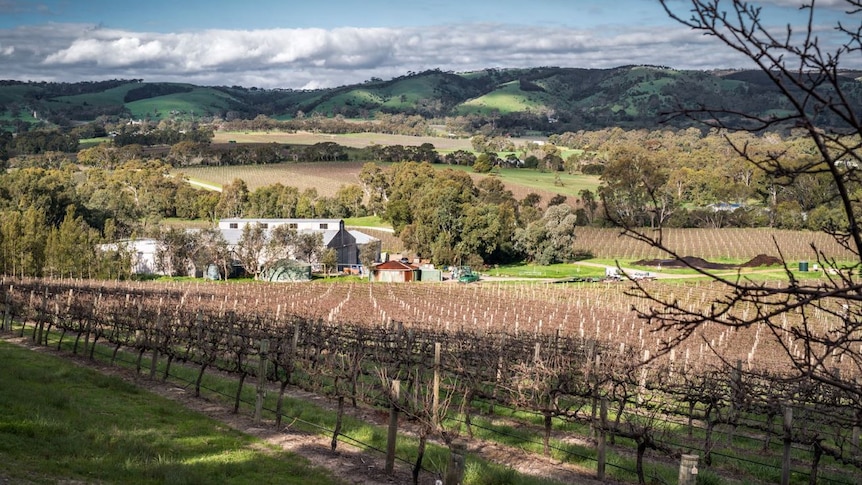 Family-run SA vineyard wins President's Medal at Sydney Royal Easter Show
The Royal Agricultural Society of New South Wales has awarded its highest award in wine, dairy and food to Shottesbrooke Vineyards in South Australia.
The family business had to beat 4,000 other competitors and 81 other Royal Sydney Champions from across the country to win the 15th President's Medal.
Producers are judged on a triple bottom line assessment to determine their social, economic and environmental impacts.
The judges traveled to Shottesbrooke Vineyards and five other locations to conduct in-depth reviews of the finalists' operations.
The story of Shottesbrooke
Created in 1981, the vineyard is run by the second generation of the Shottesbrooke family and produces wines distributed throughout the world.
Managing Director Hamish Maguire said the business continues to grow and produce wines that truly reflect their origin.
"We are literally able to plant vines, grow grapes, create wine and then take that bottle halfway around the world to enjoy it," he said.
Shottesbrooke won a trophy in the Best Single Vineyard category for its 2020 Adelaide Hills Chardonnay at the 2021 Sydney Royal Wine Show, putting it in the running for this year's President's Medal.
Judge Michael Bullen said Shottesbrooke epitomizes everything the President's Medal stands for.
The other finalists:
Pecora dairy products
Pecora Dairy, in Robertson in the southern highlands of New South Wales, is an artisan sheep's milk dairy and cheese factory run by Michael and Cressida Cains.
Sheep's milk is ideal for cheese production because it contains twice as many solids as cow's milk.
Pecora's artisan sheep's milk cheese, Yarrawa, was Australia's first uncooked raw milk cheese.
Pecora Dairy won Best Cheese in Show for Yarrawa at the Sydney Royal Cheese and Dairy Produce Show 2021.
Tathra Oysters
The Rodely family have been raising their Sydney rock oysters in Nelson Lake, located in Mimosa Rocks National Park on the south coast of New South Wales, since 1988.
The Rodelys have received more than 180 awards for their oysters.
Tathra Oysters has won the Champion Aquaculture Product and Champion Sydney Rock Oysters award for its Nelson Lake Bistro Cylinder Oysters in the 2021 Sydney Royal Fine Food Show aquaculture competition.
Stockyard beef
Stockyard have been breeding and rearing grain-fed Wagyu and Angus cattle in Jondaryan, Queensland's Darling Downs, since 1958.
It is a family business and Stockyard brand beef can be found in restaurants and hotels across Australia as well as in over 20 international markets.
Stockyard Beef won Champion Beef and Branded Meat Grand Champion for its Stockyard Black in the 2021 Sydney Royal Fine Food Show branded beef competition.
meats of the sun
Founded in 1988, Sunshine Meats has won numerous awards for its artisan hams, poultry products and small smoked goods.
Inspired by the flavors of Madeira, Portugal, owner Jose Pereira started by producing chorizo ​​and salami.
Using only Australian pork, chicken, beef, duck and turkey, the company's products can now be found in delis, supermarkets and specialty stores in Sydney, Melbourne, Brisbane and Perth.
Sunshine Meats won gold in the Other Charcuterie category for its Smoked Duck Breast in the Sydney Royal Fine Food Show 2021 Small Goods and Charcuterie competition.
Rio Vista olives
Rio Vista olive trees were planted by hand in Mypolonga, South Africa in 1996.
Each olive is grown, harvested, cold pressed and packaged on site, and care is taken to obtain the oxygen, temperature, crushing time and extraction elements to make it an artisanal product.
Rio Vista Olives has won the Champion Flavored or Culinary Oil award for its chilli pressed olive oil in the 2021 Sydney Royal Fine Food Show oil and olive competition.