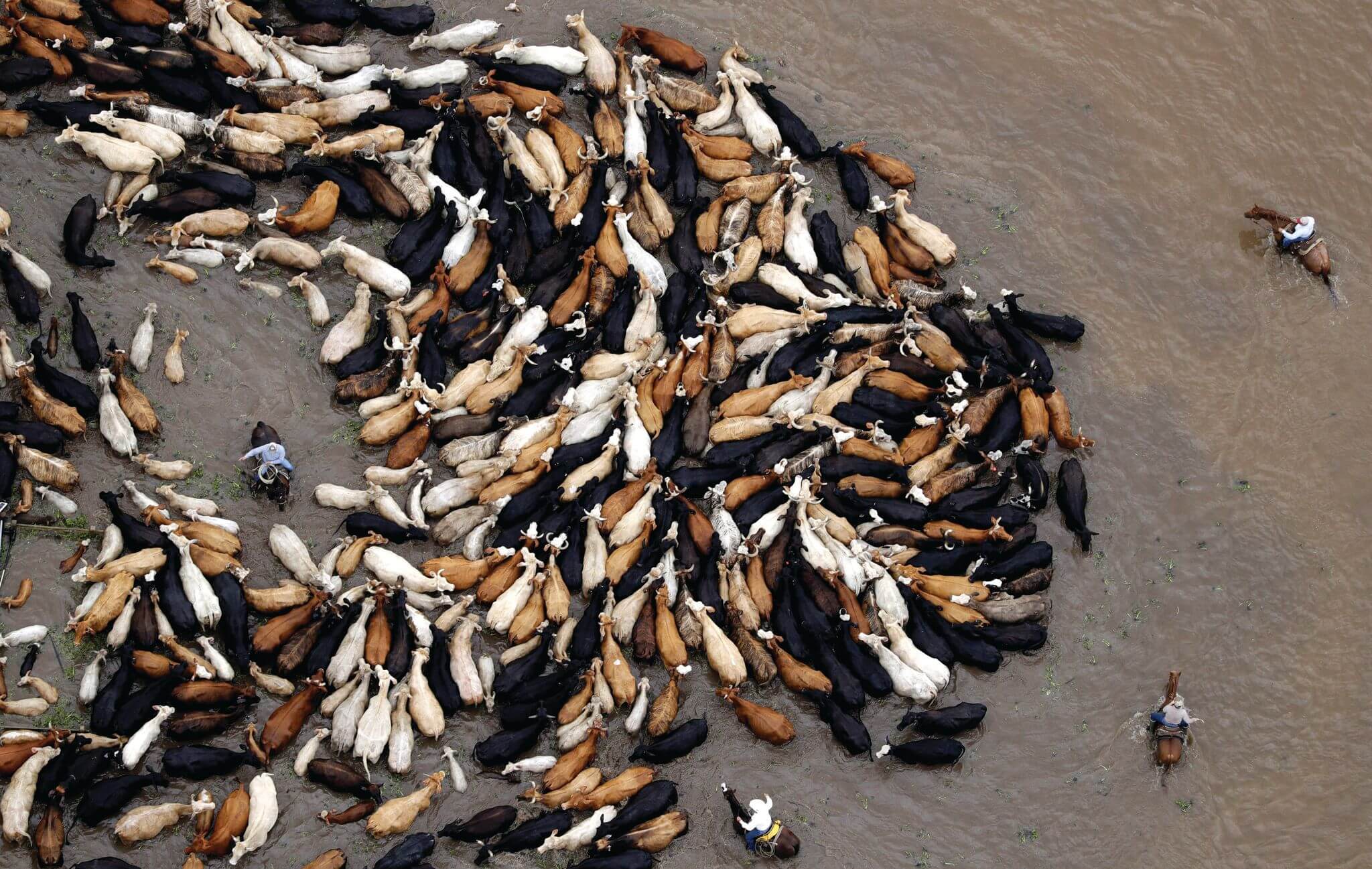 Climate change hits livestock
On November 16, 2021, Gary Baars of Abbotsford, British Columbia began loading his 200 dairy cows onto a cattle trailer 20 at a time, to get them to higher ground before more rains arrived. . His farm was still dry, but Baars was taking no chances: his cousin and neighbor, pig farmer John Guliker, had to be rescued the day before when floodwaters rose "probably 10 feet deep". Guliker and 14 workers, who were trying to evacuate pigs, had to climb onto a roof. The men were rescued by boat, but thousands of Guliker pigs drowned.
Guliker wasn't the only cattle rancher hammered by record flooding that ravaged British Columbia last fall. An astonishing number of farm animals – at least 628,000 chickens, 420 cows and 12,000 pigs, according to the provincial government – died in the floodwaters. In total, about 200 square kilometers of southern British Columbia, encompassing the low, fertile Sumas prairie, were inundated with more than 250 millimeters of rain per day. With over $1 billion a year in farm-gate sales, the potential impact was huge not only for Abbotsford ranchers, but also for area fruit, vegetable and nut growers.
All over the world, the climate crisis is ravaging farms. Last summer's heat dome across much of western and central North America shrunk crops and pastures, forcing farmers to send cows to the slaughterhouse before they could are starving. In California, ranchers have struggled to evacuate their herds in the face of record-breaking wildfires that have charred millions of acres of land in recent summers. In North Carolina in 2018, an estimated 3.5 million poultry and 5,500 pigs perished in flooding caused by Hurricane Florence. The costs add up: Flooding in Nebraska wiped out $400 million worth of livestock in 2019 alone.
What is clear is that today's livestock infrastructure is built for a climate that no longer exists. Farmers face huge livestock challenges trying to protect animals from extreme weather conditions that lead to flooding, scorching heat and drought-induced food shortages. Will barns need to be redesigned and fitted with expensive cooling systems? Could farmers have to create evacuation plans in case of flooding or forest fires? And what happens when their farms are destroyed and insurance companies deem them too risky to insure? Global warming is also attracting new invasive species, diseases and cross-border pathogens, further threatening animal welfare.
Dan Weary, NSERC (Natural Sciences and Engineering Research Council of Canada) Industrial Research Chair in Animal Welfare at the University of British Columbia, says the November floods were marked by remarkable feats of heroism as farmers attempted to save the animals in their care. "Farmers judge themselves in terms of stewardship of their animals," Weary says. But the huge loss of lives and livelihoods indicates that the agricultural sector needs to take stock in the coming months and consider redesigning farms to make them more resilient.
"It's going to be an ongoing problem," Weary says. Especially since the floodplain of Sumas, British Columbia sits in what was once Sumas Lake, before it was drained a century ago to take advantage of the fertile soil.
Sean Smukler, chair of agriculture and environment in the faculty of lands and food systems at the University of British Columbia, says that if we are unwilling to invest in the expensive infrastructure needed to prevent flooding, we will have to take a different approach approach. That may mean switching to flood-resistant crops, although for cattle ranchers in the region, the safest solution is to relocate their operations altogether. It will be a "negotiation between the company and the producers, to decide whether or not we are willing to pay the price to protect them," Smukler says. "We have to pay more for our food if we want something sustainable."
This is going to be a perennial problem.

-Dan Weary, NSERC Industrial Research Chair in Animal Welfare at the University of British Columbia
Camille Labchuk, an animal rights lawyer and executive director of Animal Justice, an Ottawa-based nonprofit, says the size of farm facilities must be reduced to make rescue attempts viable, with farmers creating pathways to evacuation and emergency food and water supplies for the creatures. under their care. The current number of animals makes this proposition questionable. British Columbia's poultry operations have more than 54,000 birds per flock and seven flocks per year — a number that is impossible "to realistically plan to evacuate," says Labchuk. In the United States, for example, poultry farms can house millions of birds, an even more unlikely scenario.
Animal welfare laws also need to be revamped with disaster management in mind, Labchuk adds, pointing to the agricultural disaster in late June when soaring temperatures in British Columbia killed more than 650,000 farm animals. – mostly chickens crammed into cages.
Livestock specialists suggest a different approach. Veterinarian Tim Kurt is the Scientific Program Director of Advanced Animal Systems at the Food and Agriculture Research Foundation, based in Washington, DC. It highlights research aimed at making animals more resilient so they can withstand extreme weather conditions. The US livestock industry loses more than $2.36 billion a year to heat stress: Animals eat less (which impairs growth), produce less milk and become less fertile, Kurt says.
Studies are ongoing on nutritional interventions and supplements that specifically reduce heat stress in cattle.
Scientists are also looking at gene editing: identifying traits that allow livestock in places like sub-Saharan Africa to withstand drought and heat. African cows are generally inefficient milk and meat producers, and a simple cross would produce an inferior animal. However, CRISPR gene editing, which allows genes to be added or deleted in living organisms, could be used to improve "the animal's heat tolerance without affecting milk production, giving it great potential," says Kurt.
Unlike other GMO manipulations, CRISPR uses genes from the same species.
In 100 years, I expect there will be almost no animal agriculture left on Earth.

-Lenore Newman, Director of the Institute of Food and Agriculture at the University of the Fraser Valley
Growers are also trying to keep their barns cool by using fans, misters, sprayers and evaporative coolers when temperatures soar. However, such measures increase water and energy consumption, calling into question their sustainability in drought-affected regions. In an effort to convince more ranches and farms to switch to clean energy, the Rural Energy for America program, administered by the U.S. Department of Agriculture, provides grants to help farmers and ranchers improve their efficiency energy and developing renewable energies.
The irony is that animal production itself is fueling climate change, creating 14.5% of the world's greenhouse gases, such as methane and nitrous oxide, according to the Food Organization of the United Nations. and agriculture. "Animal agriculture accounts for the lion's share of food's contribution to the global climate problem," says Lenore Newman, director of the Institute of Food and Agriculture at the University of the Fraser Valley. in Abbotsford. Newman envisions a future where proteins are derived from plants, lab-grown meats and cow-free dairy. "In 100 years, I expect there will be almost no animal agriculture left on Earth. If we can produce identical meat and dairy products at a lower price, it's better for you and for the environment," she says.
What can we do immediately? Amber Itle, acting state veterinarian for Washington, says the agriculture industry in Canada and the United States must increase cross-border collaboration, including emergency preparedness efforts and coordinated responses to minimize impacts disasters like the floods that hit the Pacific Northwest last grave. "We need to stop viewing our border as a line we cannot cross," Itle said. "We must be prepared to use new technologies, policies and tools on farms to help prevent, prepare for and respond to animal health emergencies and mitigate the impacts."
Henk Ovink is the special envoy for international water affairs in the Netherlands. He says it is not just international collaboration but an alliance with Mother Nature herself that will be needed to control the impacts of climate change. The Low-lying Netherlands took land out of agricultural production, compensating dairy farmers for property and moving their operations to higher ground. "I think it's very simple: don't even try to control nature," says Ovink.
Back in Abbotsford, Baars' farm eventually found itself underwater. Although he managed to get his cows out in time, it took five weeks before he could resume full dairy farming, as he had to replace rusted milking equipment from the floods. Baars is worried about the future. The flood, which was supposed to be an event every 500 years, "could happen again in six months," he says. He doesn't have a plan in place in case of else.
"We are counting on our government to modernize the dikes in our area. If there is another flood in the future, which is very possible, we hope to get more notice and evacuate quickly," he says. "We have to turn to the politicians and light a fire and say, 'We have to stop this. I wouldn't want to see another flood, I can tell you that.