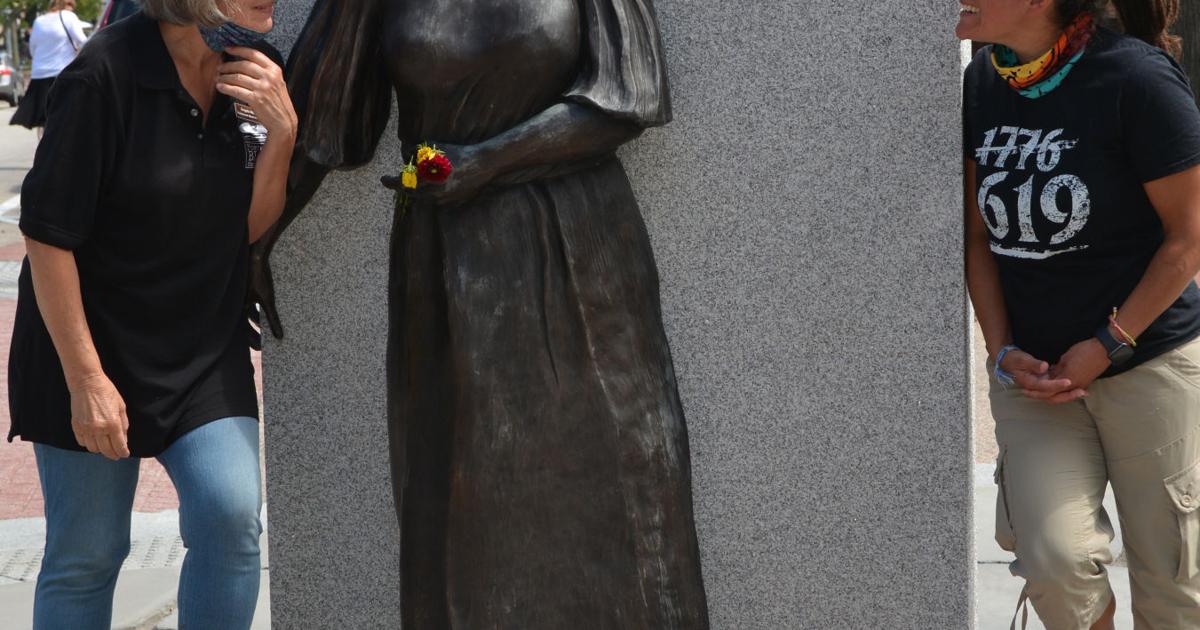 Celebration of Black Americans presents Ona Judge, who escaped George Washington's plantation for freedom in NH | Story
GREENSBURG, Pa. — As the star of the Westmoreland Museum of American Art's latest exhibition, "Declaration & Resistance," Stephen Towns shines.
The Baltimore-based artist has created 35 figure paintings and hand-sewn quilts that dance with vibrant colors and textures, some with metallic threads, tulle and glass beads adding a luminous glow.
Known for creating art that explores how American history influences contemporary society, Towns' exhibition at the Greensburg Museum, curated by Kilolo Luckett, shines a light on the black workers who helped build the country under extreme conditions, often without recognition.
Two special events accompany the exhibition. On April 21, author and historian Erica Armstrong Dunbar will give a talk about her award-winning book "Never Caught" and its main character, Ona Judge, who escaped from President George Washington's Virginia plantation in 1796.
On April 23, art lovers will have the opportunity to dine on a menu curated by James Beard Award-winning chef and cookbook author Alexander Smalls. Prepared by Chef Jackie Page of the Love Rocks Cafe at McKees Rocks, the "Declaration and Resistance Dinner" will feature a four-course meal featuring Southern classics from Smalls' 2020 cookbook "Meals, Music, and Muses: Recipes from My African American Kitchen". It is accompanied by a post-dessert discussion moderated by the chef on Africa's global culinary influence.
Forgotten workers
Many of Towns' artworks were created during the pandemic, which gave the exhibit a more festive tone honoring essential workers, says Erica Nuckles, Westmoreland's director of learning. Some were inspired by original black and white photos.
"He literally breathed life and color into them," she says.
At least two paintings will be of particular interest to Western Pennsylvanians. The first is that of a young Elsie Henderson, who cooked for the Kaufmann family in the 1950s and 1960s at Fallingwater, Frank Lloyd Wright's modern masterpiece in Fayette County. Towns knew nothing of Henderson, who died last year at 107, until his artist residency last June in Fallingwater. He was immediately hit.
"I could see how charismatic and good a storyteller she was, and I wanted to show it," he says.
Most of the archival footage he used to create the painting captured Henderson at work in the kitchen. He chooses instead to represent her in her youth, lying and smiling in a bathing suit on a garden chair. Inspired by a scene from "The Year of Magical Thinking" by Joan Didion, the artist wanted to show her energy. Or as he puts it, "show her as a person."
The other painting is based on a self-portrait by photographer Charles "Teenie" Harris, who documented black life from the 1930s through the 1960s for the Pittsburgh Courier. Towns felt the same need to create an aura of intimacy around Teenie, who shares her chair with the family dog.
"He was a city man," he says. "It was a way of showcasing it."
black miners
A series of six Towns multimedia works entitled "The Coal Miners" is particularly interesting. Based on archival photos, the collection shines a light on black miners in Pennsylvania and West Virginia who worked underground in toxic conditions under the constant threat of injury or death. The bottom of the panels contains mica dust, graphite and charcoal to mimic the coal they dug out of the ground.
"Black and white, Italian and Irish, when people are in the mines, they're all covered in soot and look the same," says Towns.
It was only after they got above ground and dusted off that the overseers were separated.
"So when you look at the coal mining industry, you can see the larger context of the American economy and business and how it can work to control a group of people."
Two of Towns' quilts pay homage to Judge, who had no regrets despite fleeing Mount Vernon to a life of poverty and hardship in New Hampshire.
When the exhibition closes on May 8, it will travel to the Boise (Idaho) Art Museum in June before heading to the Reynolda House Museum of American Art in Winston-Salem, North Carolina in February.
As the youngest of 11 children growing up on the outskirts of Charleston, SC, Towns' defining characteristic was his acute shyness. But he turned it to his advantage, learning to communicate by making art. With the encouragement of teachers, he excelled and went on to earn a bachelor's degree in painting from the University of South Carolina.
"It's just something that I naturally gravitated toward," he says.
Towns' work incorporates quilting — a skill he learned from watching countless videos on YouTube — adding weight, both literally and figuratively, to his explorations of black life.
With seven pieces exhibited at the Smithsonian's Museum of African American History and Culture, the 42-year-old artist has established himself. Or as he chuckles, "I'm now able to make a living from art" after years of doing it part-time while working in retail, restaurants, and other jobs.
The chef's deep roots
Smalls, meanwhile, was a professional opera singer before opening The Cecil, New York's first African-Asian-American restaurant, in 2013. He was asked to host the museum's dinner after Towns – during her artist residency in Fallingwater – posted on social media about a cookbook by Elsie Henderson. The Stanton Heights resident wrote the cookbook about her time with the Kaufmann family in 2008.
"I commented on it and thanks to him I ordered it on eBay for my collection," Smalls recalls with a laugh. "Then he started telling me who she was and where he was, and what he was doing there, and the next thing I know he walked around the wagon and his team called my team."
Smalls was speaking from his home in Harlem, fresh from his seventh trip to Dubai, where he opened Alkebulan, the world's first African dining room. He agreed to do Westmoreland's dinner because he's a "big fan" of Towns but also because "it just seemed like I was supposed to be there".
The chef was raised in the South, in a family of cooks. When you grow up in a small town, he says, "food is everything, a whole language and a conversation that you have to learn. It's the center of your life three times a day."
He quickly learned that the person cooking held the power – despite the pervasive institutional racism. Particularly in America, he says, black people were never meant to participate equally in any conversation.
"We could farm, pick cotton, cook, raise cattle, but in each generation our culinary expression closest to recognition was the dumping of 'soul food'."
Still, African American cuisine is the foundation of American cuisine, he says. "It's American food."
Food was the currency of slaves, says Smalls. "It was pride and dignity and our way of showing ownership."
His cookbook and the museum meal to be made from it feature simple recipes (see related story) that capture the spirit and soul of the low country Gullah cuisine he grew up in. It also draws attention to the hidden characters that helped shape American gastronomy.
Tickets for the Erica Armstrong Dunbar lecture on April 21 are $10 for museum members and $15 for non-members. A limited number of tickets – $50 members, $65 non-members – are still available for the "Declaration and Resistance Dinner" on April 23. Get tickets at thewestmoreland.org/events or by calling 888-718-4252. Admission is free to the Westmoreland Museum of Art, 221 N. Main St., Greensburg, but prior online registration is required. Hours are 10 a.m. to 5 p.m. Wednesday through Sunday, closed Monday and Tuesday. Information: thewestmoreland.org or 724-837-1500.
Distributed by Tribune Content Agency, LLC.