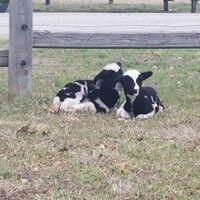 Animal Husbandry, Herd Health Course at Shepherd's Cross | New
[ad_1]
Come down to the farm to learn how to care for animals such as sheep, goats, alpacas and llamas during the Herding and Herd Health course on August 28 from 8:30 am to 4:30 pm. individuals or the whole family, will cover instructions, documents, videos, tutorials and hands-on experience.
Course topics include vaccinations, foot pruning, tail trimming, bloodless castration, pasture and feed management, parasites and worms, practical herd health, cost effective for working shepherds, FAMACHA, lambing and childbirth, newborn care – lambs, children and others, tubes, wool management, AWA and shearing.
The main instructor of the class is Dr Diane Dickinson, veterinarian and licensed agronomist with over 35 years of experience in animal husbandry and agriculture. Her unique perspective on breeding care includes that of a producer, veterinarian and owner of a small herd. She also shares her experiences in global agriculture, biblical agriculture, sustainable living, natural production, agro-tourism and niche markets. The Dickinsons have owned and operated Shepherd's Cross, a working sheep farm, for over 25 years. Their livestock include pasture-raised and fed sheep, cattle, alpacas, llamas, donkeys, horses and poultry. The farm is approved by animal welfare.
The cost of the course is $ 79 per person, $ 149 for two family members or $ 199 for the whole family (16 years and over). Classes are limited to 20 participants and fill up quickly. Snacks and drinks are provided. Participants must bring their lunch.
Register at bergerscross.com/small-ruminant-classes.html
During this troubled time, the small herds ensured the stability of families, communities and the nation. A starter flock of sheep is also available for purchase locally at Shepherd's Cross.
[ad_2]