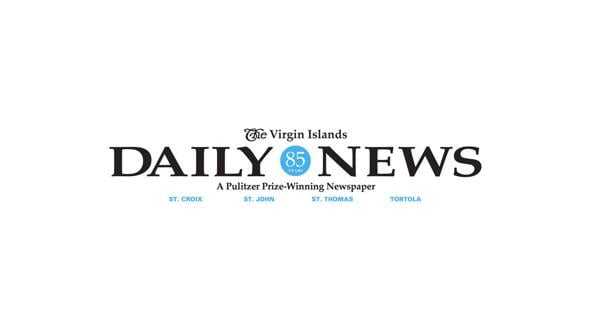 Alphonso James is Livestock Farmer of the Year and calls for the return of FFA to schools | New
ST. CROSS – Nestled in Estate Golden Grove is an unassuming property where nature and passion for agriculture meet.
This is Alphonso Jame's farm.
James, a sheep farmer, is this year's Cattle Farmer of the Year. In addition to a trophy, he received checks from the Agriculture Fair Board and the Virgin Islands Daily News.
The 10 acres of carefully landscaped farmland is dotted with several clusters of fruit trees and a flock of white St. Croix sheep roam freely. Echoes of James' hoarse voice can be heard across the fields calling for his flock during the early morning hours. He shows love for his animals and an appreciation for nature which is reflected in the cleanliness of his farm.
As Sue Lackos from the Department of Agriculture announced James as this year's Farmer of the Year this weekend, she said James went above and beyond and that his neat and well-run operation row shows what hard work and attention to detail can achieve.
Born in Sainte-Croix, James said he had always enjoyed farming and started working "shoulder to neck" with his uncle on his farm from the age of 11.
"I really enjoyed working on the farm with my uncle. We had pigs, goats and sheep that we took care of daily and raised them for meat for ourselves and sold them to other members of the community," he said, adding that in high school , he had become involved with the Future Farmers of America. "I loved everything about agriculture and while attending Central High School I was secretary and then president of the organization," he said. "I've attended national conventions and conferences in the states and represented the territory. This is one of the first things I see missing if we really want to grow our agriculture industry – we need to bring FFA back into the schools.
He said it's a way to engage students and help them learn more about agriculture.
"This program has been so beneficial to me and many others who have grown out of it and I want our young people today to have the same opportunity," he said. "The life of a farmer is a rewarding lifestyle for the individual and also benefits the community. If we really want to grow the industry, we need to invest in today's young farmers.
In 1994 James started his own farm, working part-time between full-time jobs. He worked as a firefighter, policeman and in the Department of Social Services. His love for agriculture eventually led him to the Ministry of Agriculture, where he worked until his retirement in 2019 and started working full time.
Although he was honored for his sheep farm of over 60 head and always dreamed of developing and operating a piggery in Sainte-Croix, James is also a lover of trees and crops. He also grows mangoes, avocados, guavas, limes and coconut, among others. He also takes care of two other gardens – a tea tree and herbs.
James said that as a farmer he takes his job seriously and wants other farmers to recognize that they need to invest in their business to see it grow.
"They can't sit and wait for the government to do things for them, they need to take initiative, focus on the bigger picture and do more for themselves to move forward." he said, adding that he had taken certification courses offered by the University. of the Virgin Islands and the University of Pennsylvania, including animal husbandry, health care, and pasture management.
James said his day starts around 5:30 a.m. He releases the animals from their overnight shelter, counts them, feeds them, gives them water and releases them to enjoy the day by roaming freely and grazing. Around 5 p.m., he counts them again, gathers them and recovers them in their enclosure.
James said one of the difficulties he faced was stray animals destroying a number of sheep in one night or intruders stealing the animals.
"We have to fight animals and humans to protect the life of the herd," he said.
As a cattle rancher, James provides fresh meat for residents, family celebrations and religious holidays. He said he was honored to have the opportunity to be named Livestock Farmer of the Year this year.