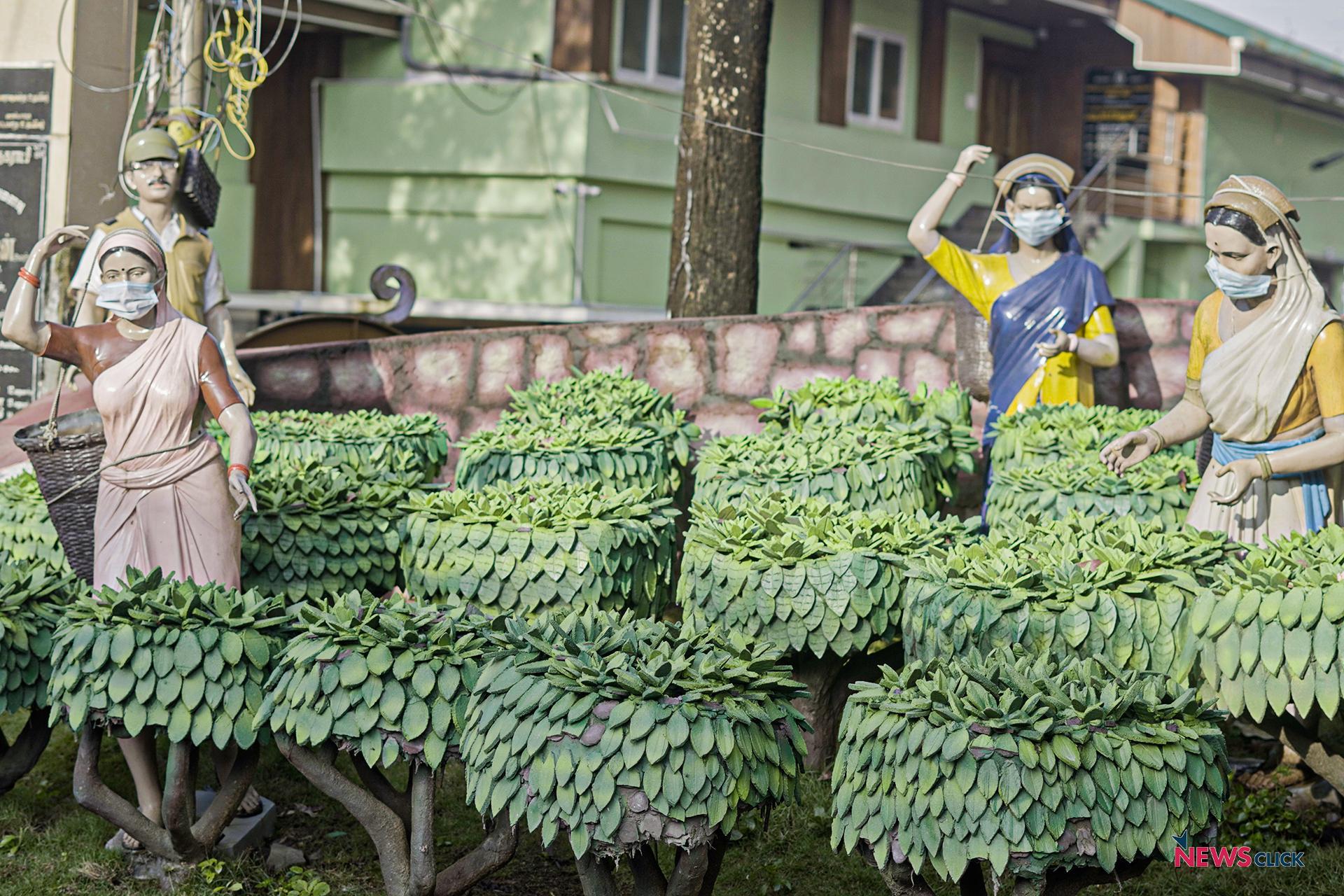 A cup of tea, a luxury for tea plantation workers in Tamil Nadu
Tea is the most widely consumed beverage in the world and in India, but those who produce it are denied a decent cup of tea to drink.
NewsClick recently visited tea plantations in and around Valparai hill station in Coimbatore district, Tamil Nadu and spoke with the workers there. It turns out that working conditions are so dire that workers quit their jobs and migrate to the plains.
More than 20,000 workers are employed in tea plantations within a radius of 60 km. They are mostly second and third generation plantation workers born and raised on plantations. They work from morning to night picking tea leaves, spraying pesticides, applying fertilizers and pruning branches.
Workers stand all day on sloping ground and resist the bites of leeches, which suck blood. Workers use scissors for hours at a time to cut tea leaves, which harms their health. Additionally, they are denied essential facilities such as toilets and safety equipment.
On many plantations, even the minimum wage, which workers say is already insufficient, is not guaranteed. Meanwhile, tea sales have been good during the pandemic as imports from China have been halted.
'DECENT TEA REFUSED'
According to the protocol, each worker in the tea plantation must receive a cup of tea every working day. A person, who is usually a family member of a plantation worker, is assigned to prepare the tea in his residence. A worker collects and distributes the tea every afternoon.
NewsClick spoke to the tea maker at one of the plantations, who preferred to remain anonymous. She said, "Whether it is 20 people or 100 people, I am given the same amount of ration to brew tea; you can understand how the tea would turn out.
"The administration no longer provides me with dish soap or tea strains. I have to buy them with my earnings," said the tea maker, who earns Rs 2,500 per month.
The workers complain that the tea is extremely runny and is just plain-colored sugar water.
Plantation worker Marimuthu said, "The tea we drink is brewed 2 km away, and when it is brought to us in the rain, it is no longer hot.
The administration did not give a flask to carry the tea. The person transporting the tea travels the entire distance to ensure that the tea reaches the workers before it gets cold.
Moreover, the workers complain that the administration does not provide beakers or cups for drinking tea. They fold large leaves, pour their tea into them and sip it. When asked why the administration was acting like this, one of the workers, Murthy, replied: "If they give us these things, we will become worthy; they don't want that for us.
'NOT WELL COMPENSATED '
Tea plantation workers earn around Rs 300/day. In most families, the husband and wife work on the plantations, and they say the income is insufficient to run the household.
"I have three children; they are studying in college. It is difficult to educate them with our meager salaries. We take loans from the bank, pawn jewelry and borrow money to educate them," Murthy said.
He further stated, "Profits are abundant in tea production as it is a cash crop. Tea pays and brings profits every day. During the pandemic, the import of tea was interrupted, so the tea from here was sold at a good price. But we didn't get any pay rise or bonus but the workers in neighboring Kerala got a good festive bonus.
Most private tea plantations are leased to third parties in the region; very few are directly managed by the owners. The management pays the owner his share, and the intermediaries keep the rest.
Murthy said: 'Ideally they should use the RFO fund to provide shoes and gloves for workers, but it's not being spent on us. If we ask, they take revenge on us. They send notices and we are forced to prove our innocence through the union.
"False cases are filed against those who oppose the administration. These workers are often denied work and sent back to their country of origin," said Paramasivan, head of the CITU in Valparai.
"Tea was declared a food crop by the government during the pandemic, so we continued to work during the lockdown. Tehsildar and VAO announced 'One Touch', an order to work until 1pm, but we were made to work until 3 and 4pm. We had no choice. We worked because we needed income," Marimuthu said.
In addition, a business tax is levied on workers. Each worker must pay up to Rs 1,000/year.
Madasami said, "During the parliamentary elections, we called on the DMK MP candidate to withdraw this tax. We said that we were daily workers and that our wages were not enough. He promised to withdraw the tax but has not appeared since.
POOR HEALTH CARE AND SECURITY
All large plantations must have health centers. Workers complain that the condition of these centers has deteriorated over the years.
Madasami, a second-generation plantation worker who started working at the age of 15, said, "Back then, we used to pull the leaves with our hands. It was only when the harvest was plentiful that we used scissors. Nowadays, we use scissors every day. This led to ligament tears and bone thinning.
He added: "The company hospital is unaware of the problem. They only give us an injection and a painkiller and ask us to rest for two days. If the pain persists, we spend out of our pockets, drive down to Coimbatore and find the damage is severe.
"When I was around 25-30, there was a male doctor, a female doctor, five waiters and ten nurses. Now it has decreased. Recently, a person went to the hospital for chest pain. The only doctor was on leave. By the time they were able to bring him down, he was dead," Madasami said.
Marimuihtu said: "In the Paradise movie, the tea workers' nerves were ripped out. They were simply fed water and coffee. Our situation is not very different; only our nerves are not ripped out, everything else is the same. We are supposed to take what they give and keep working.
Another major problem that haunts tea plantation workers is wildlife attacks.
"The leopards come right up to the entrance of our residence, and they have even dragged children away. Elephants also appear in the evening and linger all night," Marimuthu said.
Given the lack of security and limited facilities, plantation workers are leaving the hills and moving towards the plains.
Paramasivan said: "Health care is poor, wildlife conflict has increased, residential facilities are limited, toilets are not available, connection to drinking water is not there either…there is no 'there is nothing. To save themselves, the workers go to nearby towns like Kovai, Tiruppur, Erode, Salem to find daily paid work.
He added: "Whether it is the Labor Protection Board or the Employees Provident Fund, they only exist in name. The welfare office is responsible for the departure of workers. If board members had done proper estate studies and provided legitimate benefits, the workers would not have left. Everything was denied them. That's why they left.
Since the pandemic, there has been an increase in the number of workers from other parts of the country. Workers from Assam, Orissa and Bihar are replacing workers who have emigrated.